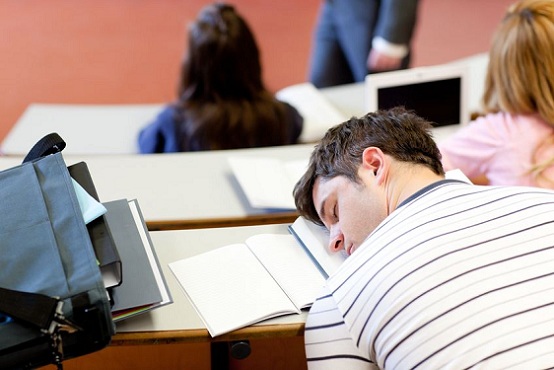 College students are notorious for poor sleep habits between maintaining classes, social lives, and possibly a job. However, a new small study was presented this year at SLEEP 2014 indicating that students who sleep poorly are more likely to get perform poorly academically and withdraw from courses, compared to students with healthy sleep habits.
Data from more than 43,000 students who were enrolled in the Spring 2009 American College health Association National College Health Assessment (NCHA) were evaluated by researchers in their search to find out factors that would predict any academic problems, including having a lower GPA, having lower grades in a course and dropping a class.
After adjusting for factors such as clinical depression, feelings of isolation, learning disabilities, and chronic health issues, poor sleep habits were found to be just as strong of a predictor of academic problems as marijuana use and binge drinking. The negative impact of poor sleep habits was found to be more pronounced in among the freshman class.
Sleep habits aren't widely discussed on college campuses as drugs and alcohol, but the results of this student suggest that they should be. Roxanne Prichard, Ph.D., associate professor of psychology at the University of St. Thomas in St. Paul, Minnesota, recently informed The Huffington Post that about 60% of college students admit they have some kind of problem sleeping. These problems contribute to the statistic that each time a student drops a class, their probability of graduation drops by 14%.
Focusing on first year students could be a smart decision for colleges to establish a strong sleep foundation and supportive community when sleep issues arise down the road. What you do think of these study results?